Legole.Com Discover china. Explore the beauty and wonder of the land, people, and culture of

China

.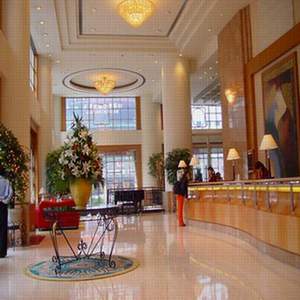 Wuyi Road, Chongqing, China, 400010

Location: Distance from Centre of city 0 Km, from the airport 3 Km, from the railway station 28 Km
Surrounding: Metropolitan Plaza Mall, Liberation Monument Square
Accepted credit cards: Master, Visa, AMEX, Diners Club, JCB

Room Type Period Average(CNY/ USD)
Deluxe Room Jun 1, 2005 - Aug 31, 2005 640/ 79
Deluxe Suite Jun 1, 2005 - Aug 31, 2005 940/ 116
Superior Room Jun 1, 2005 - Aug 31, 2005 590/ 73

Payment

Pay at hotel reception
(This hotel requires you pay the full room charge directly at hotel reception by guarantee first.)

Profile

Chongqing, the most important economic and
financial center in southwestern China and
the country's fourth Municipality, is strategically
situated at the confluence of the Changjiang
(Yangtze) and the Jialing rivers.
Harbour Plaza hotel located in the heart of the
Chongqing commercial district and adjacent to
the Liberation Monument Square (Jie Fang Bei),
the Harbour Plaza Chongqing is the hub for
business and leisure. Connected to the
Metropolitan Plaza Shopping Mall and Office
Tower Complex, the Hotel offers an endless
variety of combined services of entertainment,
shopping, dining and business venues.

Services

Full service business centre, Concierge, 24-hour room
service, Money Exchange, eli & pastry shop, Baby sitting
service, On call house doctor, Gift shop, 110 Voltage Plug,
Laundry & valet service, Airport shuttle bus, Daily news-
paper (local & international), Limousine service, Tennis court,
Cinema complex, Bowling alley, Shopping mall, Ice skating rink.

Facilities

The hotel has a total 390 guestrooms and suites.
Each room is equipped with spacious bathrooms,
air -onditioning with individual temperature control,
satellite television and movie channels, IDD tele-
phone system, coffee/tea making facility, in-room
safe, hairdryer and private bar.

Features

As one of the few 5 star hotels in Chongqing,
Harbour Plaza offers the finest dining options
in town. The spicy and hot Sichuan food, the
Cantonese dishes and the western food too
are all very fresh and well prepared.

Guest Comments

I am happy to report that we were very pleased with the accomodations you set up and with your service. The hotels were excellent. We especially liked that we did not have to pay the hotel bill until we got there. This made it easier for us to split the bill for the 2 rooms.

We also appreciated your thoughtfulness in writing out the name and address of the hotels in Chinese so that we were able to show it to our taxi drivers - very smart.

In short, as retired airline employees who have travelled a fair bit, we were very pleased with your service. We have forwarded your web address to another travel provider here in Canada which deals with airline employees.