Legole.Com Discover china. Explore the beauty and wonder of the land, people, and culture of

China

.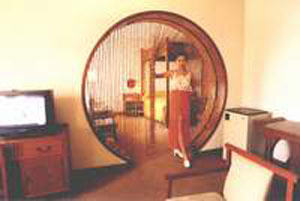 1, Queli Road, Qufu, China, 273100

Location: It is located in the city center, about 180km from the airport and 16km from the railway station, 1km from Qufu Science & Technology City.
Surrounding: Confucius Temple; Residence of Confucius ; Confucius Mansion;Confucius Forest;Yan Temple;Zhou Gong Temple
Accepted credit cards: Master, Visa, AMEX, JCB

Price And Booking
Room Type Period Average(CNY/ USD)
Business Room May 8, 2005 - Sep 19, 2005 310/ 38
Sep 20, 2005 - Oct 7, 2005 470/ 58
Oct 8, 2005 - Dec 31, 2005 310/ 38
Single Room May 8, 2005 - Sep 19, 2005 240/ 30
Sep 20, 2005 - Oct 7, 2005 400/ 49
Oct 8, 2005 - Dec 31, 2005 240/ 30
Standard Room May 8, 2005 - Sep 19, 2005 280/ 35
Sep 20, 2005 - Oct 7, 2005 440/ 54
Oct 8, 2005 - Dec 31, 2005 280/ 35
Suite May 8, 2005 - Sep 19, 2005 660/ 81
Sep 20, 2005 - Oct 7, 2005 880/ 109
Oct 8, 2005 - Dec 31, 2005 660/ 81

Payment

Pay at hotel reception
(This hotel requires you pay the full room charge directly at hotel reception by guarantee first.)

The room price is quoted in both CNY and USD. After you submit your booking form, our memo table will show you the total room price in CNY,not USD, and which is the figure you need pay at the hotel reception.
The room price has included 15% service charge, but excludes any sort of tax.
One room price excludes or includes one or two daily breakfasts served in the hotel.
The hotel keeps the reservation till 18:00 if no any advance note.
Hotel's stipulated check-in time at 14:00 and check-out time at 12:00. Early check-in and late check-out are subject to room availability. The hotel might request half day or full day room price for late check out.

Profile

The Queli Hotel is the best of all the Qufu hotels
offering a wide variety of services and a great
location. It is a short walk to the Confucius Temple
and the Residence of Confucius, and even closer
to the Bell and Drum towers. The hotel is built in the
old Shandong style, a traditional design that is in
harmony with its surroundings. About 2 hours' drive
from airport, 20 minutes' drive from railway station,
3 minutes' drive from long-diatance bus station and
3 minutes' from the Qufu Technology center.

Services

Meeting Facilities
Business Center
Parking
Currency Exchange
Ticketing Office
Domestic Long-distance Access
International Long-distance Access
Laundry Service
Gift Shop
First Aid
Beauty Salon
Chinese Cuisine
Coffee Shop
Bar / Lounge
Room Service
Ballroom
Disco
Karaoke
Bowling
Car tenancy
Bicycle tenancy
Massage
Sauna

Facilities

The hotel offers over 165 guest rooms,
all fully equipped and decent, if not quite up
to international standards. The hotel also has
a business center, a bar, a gym, a beauty parlor,
a meeting hall and a night club. The best quality
of the Queli lies in its quaint Chinese feel, there are
many ponds and courtyards, and much interesting
Shandong architecture.

Features

The hotel also offers perhaps the best options
for dining, although it is fairly expensive. The
eight restaurants within provide Shandong, Sichuan
and Western cuisine to acceptable standards. The
hotel also features the authentic " Confucius Home
Banquet" composed of various traditional Qufu dishes.