Legole.Com Discover china. Explore the beauty and wonder of the land, people, and culture of

China

.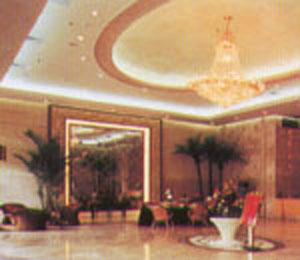 No. 122 Hongkong Zhong Road, Qingdao, Qingdao, China, 266071

Location: situated right in the center of Qingdao city, just 26kms from the Qingdao Airport and 10kms from the railway station.
Surrounding: City center
Accepted credit cards: Master, Visa, AMEX, Diners Club, JCB

Price And Booking

Room Type Period Average(CNY/ USD)
Business Room Jul 1, 2005 - Aug 31, 2005 538/ 66
Sep 1, 2005 - Oct 31, 2005 468/ 58
Nov 1, 2005 - Mar 31, 2006 418/ 52
Deluxe Single Room Jul 1, 2005 - Aug 31, 2005 670/ 83
Sep 1, 2005 - Oct 31, 2005 570/ 70
Nov 1, 2005 - Mar 31, 2006 470/ 58
Executive Room Jul 1, 2005 - Aug 31, 2005 498/ 61
Sep 1, 2005 - Oct 31, 2005 428/ 53
Nov 1, 2005 - Mar 31, 2006 378/ 47
Executive Suite Jul 1, 2005 - Aug 31, 2005 820/ 101
Sep 1, 2005 - Oct 31, 2005 720/ 89
Nov 1, 2005 - Mar 31, 2006 620/ 77

Payment

Pay at hotel reception
(This hotel requires you pay the full room charge directly at hotel reception by guarantee first.)

The room price is quoted in both CNY and USD. After you submit your booking form, our memo table will show you the total room price in CNY,not USD, and which is the figure you need pay at the hotel reception.
The room price has included 15% service charge, but excludes any sort of tax.
One room price excludes or includes one or two daily breakfasts served in the hotel.
The hotel keeps the reservation till 18:00 if no any advance note.
Hotel's stipulated check-in time at 14:00 and check-out time at 12:00. Early check-in and late check-out are subject to room availability. The hotel might request half day or full day room price for late check out.

Profile

The Hotel provides comfortable guestrooms of various kinds, a wide variety
of dishes, quick and convenient business services and well-facilitated gyms
and an entertainment center. The elegantly designed hotel has 147 rooms and
suites with beautiful decorations, 6 multi-function conference rooms, 2 restaurants
and 5 ballrooms. The hotel also has a nightclub, KTV room, beauty salon, billiards
room, cards room, tennis court, sauna, Business Center and cafe bar.

Services

Chinese Cuisine
Western Cuisine
Cafe
Bar / Lounge
Room Service
Gym
Sauna & massage center
Beauty salon
Airport transfer

Facilities

Meeting Facilities
Business Center
Domestic Long-distance Access
International Long-distance Access
Complimentary Broadband Access

Features

The Debao Garden Hotel is a 4-star level luxury resort and conference
center located on No. 122, Hong Kong Road, Qingdao city. Surrounded
by the sea and mountain, the Debao Garden Hotel attracts guests all over
the world with its European Villa architectural style, glamorous surroundings
and high quality service.
For dining, the hotel has a Chinese restaurant, a Japanese restaurant and a
cafe.The hotel's business center offers basic secretarial services and several
meeting rooms, with the largest room capable of holding 240 people.