Legole.Com Discover china. Explore the beauty and wonder of the land, people, and culture of

China

.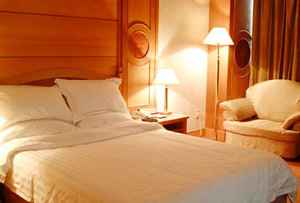 No. 17 Quancheng Lu, Jinan, China, 250011

Location: Distance from the airport ( Km ):40, Distance from the railway station ( Km ):4.5
Surrounding: Daming Lake
Accepted credit cards: Master, Visa, AMEX, Diners Club, JCB

Price And Booking

Room Type Period Average(CNY/ USD)
Business Deluxe Room Jan 15, 2004 - Dec 31, 2005 500/ 60
Deluxe Suite Jan 15, 2004 - Dec 31, 2005 600/ 72
Deluxe Single Room May 1, 2004 - Dec 31, 2005 330/ 40
Deluxe Standard Room(A Type) Jan 15, 2004 - Dec 31, 2005 380/ 46
Deluxe Standard Room(B Type) Jan 15, 2004 - Dec 31, 2005 350/ 42

Payment

Pay at hotel reception
(This hotel requires you pay the full room charge directly at hotel reception by guarantee first.)

The room price is quoted in both CNY and USD. After you submit your booking form, our memo table will show you the total room price in CNY,not USD, and which is the figure you need pay at the hotel reception.
The room price has included 15% service charge, but excludes any sort of tax.
One room price excludes or includes one or two daily breakfasts served in the hotel.
The hotel keeps the reservation till 18:00 if no any advance note.
Hotel's stipulated check-in time at 14:00 and check-out time at 12:00. Early check-in and late check-out are subject to room availability. The hotel might request half day or full day room price for late check out.

Profile

The Huaneng hotel is 4 star hotel. It is situated in the
businessdistrict of Jinan.It is istance from the airport
about 40 kilometersand from the railway station about
4.5 kilometers. Check in/out: 12:00 noon

Services

The Huaneng Hotel is a three star hotel located in the
central business area of Ji'nan. The hotel guestrooms
and suites here are spacious and well equipped with
air conditioning, mini bars, IDD TV and private safes.

Facilities

For meetings or parties, the hotel has convention and
meeting facilities ranging from organizing small meetings
to full scale audio-visual presentations with a seating
capacity of over 300 people. The hotel health club is
also a good and facilities here include a gymnasium,
sauna, jacuzzi, an indoor swimming pool and a beauty
salon.

Features

The Hibiscus Restaurant serves good Shandong cuisine
and the Sunflower Lobby Lounge is an ideal place to
unwind or to chat with friends.