Legole.Com Discover china. Explore the beauty and wonder of the land, people, and culture of

China

.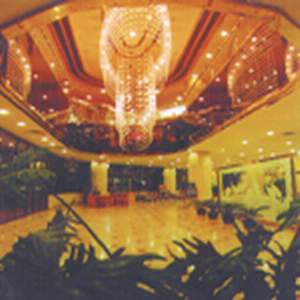 12 Hutan St., Zhongshan District, Dalian, China, 116015

Location: located 6kms from the city center, 20kms from the International Airport and 6kms from the railway station. It is within walking distance to Tigerbeach Park.
Surrounding: Tigerbeach Park
Accepted credit cards: Master, Visa, AMEX, Diners Club, JCB

Price And Booking

Room Type Period Average(CNY/ USD)
Business Suite Jul 1, 2005 - Oct 7, 2005 680/ 84
Oct 8, 2005 - Dec 31, 2005 480/ 59
Deluxe Suite Jul 1, 2005 - Oct 7, 2005 880/ 109
Oct 8, 2005 - Dec 31, 2005 680/ 84
Honeymoon Suite Jul 1, 2005 - Oct 7, 2005 680/ 84
Oct 8, 2005 - Dec 31, 2005 480/ 59
Standard Mountain-view Room Jul 1, 2005-Oct 8,2005 360/ 44
Oct 8, 2005 - Dec 31, 2005 260/ 32
Standard Sea-view Room Jul 1, 2005 - Oct 7, 2005 400/ 49
Oct 8, 2005 - Dec 31, 2005 260/ 32

Payment

Pay at hotel reception
(This hotel requires you pay the full room charge directly at hotel reception by guarantee first.)

Profile

The Regent Hotel (Lijing dajiudian) is located in the scenic
seaside city of Dalian, overlooking the wide waters of the
Bohai Sea and standing at the foot of green hills- a pleasant
and tranquil situation. This is within walking distance of the
popular Tiger Beach Amusement Park. Transportation to and
from the hotel is also convenient; a thirty minute drive from
Dalian International Airport and only fifteen minutes from the
downtown area, Dalian Railway Station and the Passenger
Terminal. This is a four star hotel with more than 200 guest
rooms including presidential suites, standard rooms, well-appointed
luxurious suites, deluxe suites and apartments.Facilities here
include air conditioning, satellite TV, IDD and minibar.
The Regent hotel has different sized conference rooms and
a business center providing full secretarial services.
The hotel's health and sport facilities are comprehensive:
with a beauty parlor, sauna, massage center, fitness center
and billiard room.

Services

Chinese Cuisine
Western Cuisine
Coffee Shop
Bar / Lounge
Room Service
Disco
Karaoke
Chess / Poker Room
Pool Room
Massage
[+} Pick-up Service
110 Voltage Plug

Facilities

Meeting Facilities
Business Center
Parking
Currency Exchange
Ticketing Office
Domestic Long-distance Access
International Long-distance Access
Laundry Service
Handicap Friendly Room
Gift Shop
First Aid
Beauty Salon
Refrigerator

Features

The Chinese restaurants on the premises include the
Beijing Garden, the Jade Garden and more than ten
individually styled banquet rooms. The hotel can cater
well for up to 500 people. The Beijing Garden features
local seafood delicacies created with Lu and Sichuan
flavors, whereas the Jade Garden is known for its
Cantonese food. The Acacia, a French restaurant with
a cafe and a lobby bar attached, is a delightful and comfortable
place to spend time. Kioi, a Japanese restaurant, serves
Japanese food in a typical Japanese atmosphere.

Guest Comments

So far we were pleased with the service of TravelChinaGuide Hotel Booking Service and I guess we will recommend you to all our friends who will be visiting China in future.