Legole.Com Discover china. Explore the beauty and wonder of the land, people, and culture of

China

.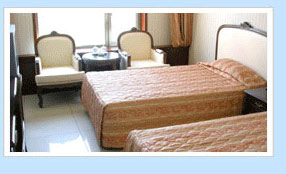 Cloud Valley Scenic Area, Huangshan, China, 242709

Location: Situated at Cloud Valley Scenic Area.
Surrounding: Cloud Valley
Accepted credit cards: Master, Visa, AMEX, Diners Club, JCB

Price And Booking

Room Type Period Average(CNY/ USD)
Business Suite Jun 1, 2005 - Jun 1, 2006 680/ 84
Single Room Jun 1, 2005 - Jun 1, 2006 300/ 37
Standard Room Jun 1, 2005 - Jun 1, 2006 300/ 37

Payment

Pay at hotel reception
(This hotel requires you pay the full room charge directly at hotel reception by guarantee first.)

The room price is quoted in both CNY and USD. After you submit your booking form, our memo table will show you the total room price in CNY,not USD, and which is the figure you need pay at the hotel reception.
The room price has included 15% service charge, but excludes any sort of tax.
One room price excludes or includes one or two daily breakfasts served in the hotel.
The hotel keeps the reservation till 18:00 if no any advance note.
Hotel's stipulated check-in time at 14:00 and check-out time at 12:00. Early check-in and late check-out are subject to room availability. The hotel might request half day or full day room price for late check out.

Profile

Yungu Hotel ties in Yungu Temple,HuangShan Scenie Area It is a three-star
travel hotel concerning foreign affairs with Huizhou building characteristics
In 1997 it was elected one of the 17state enuironment and art symbol building
hetels by the Nationol Tounit Bureau It is only one in AnHui province.
The Hotel is surrounded by the Hui-style buildings which are compoied of
5 areas such as tast? North?West ?South and central area,It stands
acrocs the ruier and by the pend,Small bridge,running water, stone carviys,
tombs and the aged trees get together ,The eleguant gardens Co mix,keautifully
with the lwxurious deeoration with ancient HuiZhou calture and wnigue anlient
conctruetion .It becomes one of the most famous human culture in Huangshan
UXUpt for "Four lxtremes".
The Hotel owns 100 standard guest rooms and 2 luxury flat . It is eguiped witl
all kinds of Chinese and Western kestaurants and banquet halls, offers all kinds
of farnous dishes; The facilities tike telecommumcation commerce ;Medical
Treatment and Healtl,Bathing entertainment , shopping ete are advanced .The
cable for climbing is at hand .Tt is the confortable plece for all guests to travel
and to spend holidays.

Services

Chinese Cuisine
Western Cuisine
Karaoke
Chess / Poker Room
Fitness
Facility Massage
Sauna

Facilities

Business Center
Ticketing Office
Domestic Long-distance Access
International Long-distance Access
First Aid
Beauty Salon

Features

The Hotel has elegant Chinese and western dining halls and banquet
halls with all kinds of styles and offers famous diskes of different styles .
The famous cooks cook the first-class Huizhou dishes,delicious refreshments
and seafood.All these hare theci special flavour.The hotel also has luxurious
boxes for guests which are equipped with advanced instruments such as
modern acoustics,karaoke and so on.