Legole.Com Discover china. Explore the beauty and wonder of the land, people, and culture of

China

.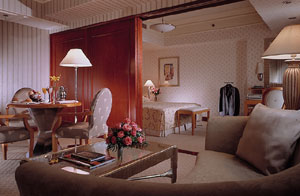 No 700 Jianshe Avenue, Wuhan, China, 430015

Location: Distance from the airport ( Km ):24, Distance from the railway station ( Km ):3
Surrounding: Yellow Crane and White Cloud Tower
Accepted credit cards: Master, Visa, AMEX, Diners Club, JCB

Price And Booking

Room Type Period Average(CNY/ USD)
Deluxe Room Jul 8, 2005 - Aug 6, 2005 803/ 99
Aug 10, 2005 - Aug 31, 2005 803/ 99
Sep 1, 2005 - Sep 10, 2005 826/ 102
Sep 11, 2005 - Sep 13, 2005 872/ 108
Sep 14, 2005 - Sep 30, 2005 826/ 102
Oct 1, 2005 - Oct 31, 2005 826/ 102
Superior Room Jun 2, 2005 - Aug 6, 2005 745/ 92
Aug 10, 2005 - Aug 31, 2005 745/ 92
Sep 1, 2005 - Sep 10, 2005 768/ 95
Sep 11, 2005 - Sep 13, 2005 814/ 100
Sep 14, 2005 - Sep 30, 2005 768/ 95
Oct 1, 2005 - Oct 31, 2005 768/ 95

Payment

Pay at hotel reception
(This hotel requires you pay the full room charge directly at hotel reception by guarantee first.)

The room price is quoted in both CNY and USD. After you submit your booking form, our memo table will show you the total room price in CNY,not USD, and which is the figure you need pay at the hotel reception.
The room price has included 15% service charge, but excludes any sort of tax.
One room price excludes or includes one or two daily breakfasts served in the hotel.
The hotel keeps the reservation till 18:00 if no any advance note.
Hotel's stipulated check-in time at 14:00 and check-out time at 12:00. Early check-in and late check-out are subject to room availability. The hotel might request half day or full day room price for late check out.

Profile

The Shangri-la Hotel is the most luxurious hotel in Wuhan, located in the commercial center of Hankou, The 507-room 5-star deluxe hotel has the most
spacious and luxurious rooms in the city, the largest banquet and meeting facilities, a line up of spa and fitness services, as well as a gastronomical delight of east and west cuisines of the nation.
Check in: 02pm Check out: 12noon

Services

With an average area of 38 square metres Each of the 507 guest rooms and suites has been tastefully decorated and designed to give you maximum comfort, privacy and relaxation throughout your stay. The Hotel also provides a full range of guest
and business services to cater to the needs of the leisure and business travelers. There is also the Horizon Club---"a hotel within a hotel" which offers the business travelers a host of special privileges and services.

Facilities

Butler Services in Suites,Fitness Center Massage Jacuzzi,Sauna,SteamRoom ,Indoor Swimming Pool,Tennis Court Cable/SatelliteTelevision,Clinic,Complimentary Airport Shuttle Transfer Complimentary Shoe Shine Service,Conference Facilities, Drugstore/Minimart Facilities for the Handicapped,Foreign Exchange Counter,Gift Shop Hair/Beauty Salon,Hospitality Lounge,IDD,In-room Internet Access Laundry & Valet Services,Non-smoking Rooms,Parking Facilities Pastry Shop,Postal/Parcel Services,Safe Deposit Box Taxi & Limousine Services,Voice Mail

Features

The Shang Palace offers delicious home-style Cantonese and other regional
specialities, together with a choice of nine private dining rooms.At the action packed B.A.T.S. Bar and Restaurant guests can enjoy an exciting line-up of live entertainment and choose from an inspired menu featuring contemporary American cuisine with a touch of Italien.