Legole.Com Discover china. Explore the beauty and wonder of the land, people, and culture of

China

.

Zhaodi Dyke Scenic Spot in Anlong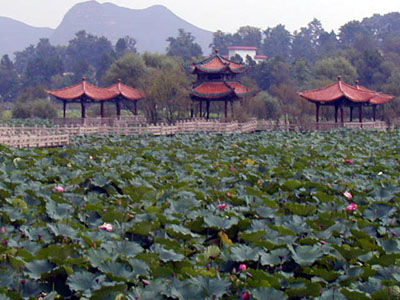 Zhaodi Dyke is located in the northeast of Anlong County, about 500 meters from the town site. Aiming to protect the town, prevent floods, and facilitate communication, this construction was begun in 1694 during the Qing Dynasty (1644-1911) with the donation of Zhao Guolin, Youji (a kind of military officer during the Qing) of the Anlong County.

The whole construction lasted for more than one year. When the dyke was first completed, it was 27 meters in length, 3 meters in height and 2.5 meters in width. In order to memorize Zhao Guolin, the dyke was named "Zhao Dyke". With the continuous mending of the later generation, this dyke now has become a scenic spot famous near and far.

Covering an area of 5 square kilometers, this dyke is surrounded by mountains in three sides.It consists of Zhao Dyke, Zhuting Pavilion, Lotus Pond, Karst Cave and other scenic spots.

On the eastern end of this dyke lies a stone arch which looks grand and magnificent. After passing the stone arch you will enter the dyke, which lasts for over 300 meters. To the south of this dyke is a paddy-field and to the north is a lotus pond. A bridge was built above the pond connecting five Lotus-Enjoying Pavilions in this pond.

In midsummer when these lotuses bloom, the pond will be overwhelmed by the fragrance.