Legole.Com Discover china. Explore the beauty and wonder of the land, people, and culture of

China

.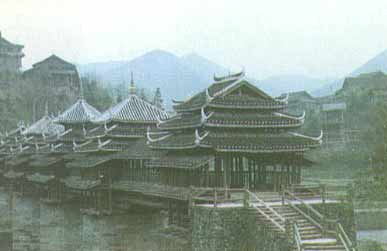 Mapang Drum-Tower, located at Mapang village, approximately 25 kilometers north of Sanjing County, is the unique example of ethnic architecture of the villages of Dong nationality, and one of the key cultural relics being preserved by Guangzi authorities. Erected in 1928, the majestic drum-tower is more than 20 meters high, with nine levels of "flying" eaves, four indoor pillars, which are big enough to be held by 2 persons with their stretched arms, and a main hall with a wallboard painting of beautiful Dong country scenery. In construction, the structure adopts tenon-jointing approach, with parts crisscrossing vertically with each other. Not a single nail is used in the whole framework, but it is highly substantial in structure. As the largest and most representative drum-tower in the Dong ethnic group region of Guangxi province, Mapang Drum-Tower is highly valuable in the research of both the social life and architecture of the Dong nationality of China.

In every Dong village, such buildings tower in the center of the village, which is inhabited by people with various family names. The unique architecture has two different styles of palace and pagoda. All the drum-towers are of wood material, and they vary from five to ten levels, with the width of the tower narrowing from the bottom to top. The structure is splendid in appearance, being the highest in the village. Generally, the field in front of the building is cobbled or paved with blue stones, which is called Drum-Tower Level Ground, and often with a drama stage next to it. Inside the building, a large square skin drum hangs from the girder, so the tower is named "drum-tower". When the drum is beaten, the people in the village will come to the tower in response.

Also, the drum-tower offers a place for various public activities of the villagers, such as get-togethers for either discussing important issues or entertainment. In the height of summer, the people come here to enjoy the cool weather, while in the cold winter, they are sitting by the fire to have a warm. On holidays, they gather together on the Drum-Tower Level Ground, competing in playing the reed wind instrument of Reed Sheng, dancing to the songs, brandishing lanterns, performing Dong dramas, and other entertaining activities.