Legole.Com Discover china. Explore the beauty and wonder of the land, people, and culture of

China

.

Heng Feng Hai Yue International Hotel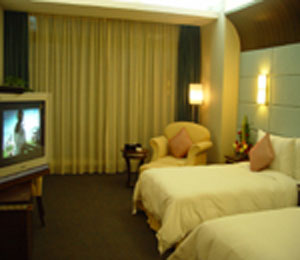 Xincheng Plaza, 80th Block Baocheng, Shenzhen, China, 518102

Location: It is located in the Bao An District,10km to the Shenzhen Bao An International Airport and 25km to the railway station, 8km to port, 2km to shopping center.
Surrounding: Window of The World; Warterlands Resort
Accepted credit cards: -

Price And Booking

Room Type Period Average(CNY/ USD)
Deluxe Room Jan 1, 2005 - Dec 31, 2005 620/ 77
Deluxe Suite Jan 1, 2005 - Dec 31, 2005 936/ 116
Jan 1, 2005 - Dec 31, 2005 936/ 116
Executive Deluxe Business Room Jan 1, 2005 - Dec 31, 2005 999/ 123
Executive Suite Jan 1, 2005 - Dec 31, 2005 1316/ 162
Standard Room Jan 1, 2005 - Dec 31, 2005 557/ 69

Payment

Pay at hotel reception
(This hotel requires you pay the full room charge directly at hotel reception by guarantee first.)

The room price is quoted in both CNY and USD. After you submit your booking form, our memo table will show you the total room price in CNY,not USD, and which is the figure you need pay at the hotel reception.
The room price has included 15% service charge, but excludes any sort of tax.
One room price excludes or includes one or two daily breakfasts served in the hotel.
The hotel keeps the reservation till 18:00 if no any advance note.
Hotel's stipulated check-in time at 14:00 and check-out time at 12:00. Early check-in and late check-out are subject to room availability. The hotel might request half day or full day room price for late check out.

Profile

Heng Feng Hai Yue International Hotel (Hengfeng Guoji Dajiudian)
is a 5-star luxury business hotel, located in "treasure (Bao) Lead
to peace (An)", Bao An district. The hotel is at the Xincheng Plaza,
Xixiang, Bao An district, next to the Guang-Shen express highway
and 107 national drive. 15-minute drive to the Shenzhen Bao An
International Airport and Fuyong Ferry, 40-minute drive to Shenzhen
railway station, 25-minute drive to Exhibition Center and 25-minute
drive to the center of city.

Services

Meeting Facilities
Business Center
Travel Agency
Tickets Office
Airport Pick Up Service(24 hours)
Parking
Car Tenancy
Shopping Mall
Laundry Service
Domestic Long-distance Access
International Long-distance Access
Broadband Access in all room
Chinese Cuisine
Western Cuisine
Bar / Lounge
Beauty Salon
Disco
Karaoke
Pool Room
Ping Pong Room
in-door Swimming Pool
Tennis
Fitness Facility
Massage

Facilities

The hotel has 266 rooms of all kinds of luxury, including
Presidential suite, Haiyue Suite,etc. Each room is a work
of famous desingers, classic and elegant, equipped with
Internet Broadband Accecss and VOD system.

Features

Four business meeting rooms and seven multi-function halls,
and the distinguishingly elegant hotel banquet hall, all can
be arranged for any activities within 600 people, such as
business meetings, exhibitions, press confidences, dinners
and cocktail parties, etc.