Legole.Com Discover china. Explore the beauty and wonder of the land, people, and culture of

China

.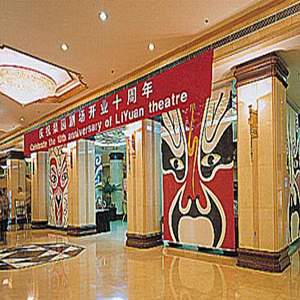 No.175 Yongan Road, Xuanwu District, Beijing, China, 100050

Location: located 36-kilometers to the Airport, 3-kilometers to the city center and 7-kilometers to the Beijing Railway Station. Situated about 8kms to the Wangfujing shopping area.
Surrounding: City Center
Accepted credit cards: Master, Visa, AMEX, Diners Club, JCB

Price and Booking
Room Type Period Average(CNY/ USD)
Junior Suite Jun 1, 2005 - Dec 31, 2005 690/ 85
Senior Suite Jun 1, 2005 - Dec 31, 2005 790/ 98
Standard Room Jul 8, 2005 - Aug 18, 2005 450/ 56
Aug 19, 2005 - Aug 31, 2005 450/ 56
Sep 1, 2005 - Oct 31, 2005 480/ 59
Nov 1, 2005 - Dec 31, 2005 450/ 56
Triple Room Jun 1, 2005 - Dec 31, 2005 560/ 69
VIP Business Room Jun 1, 2005 - Dec 31, 2005 520/ 64

Payment

Pay at hotel reception
(This hotel requires you pay the full room charge directly at hotel reception by guarantee first.)

The room price is quoted in both CNY and USD. After you submit your booking form, our memo table will show you the total room price in CNY,not USD, and which is the figure you need pay at the hotel reception.
The room price has included 15% service charge, but excludes any sort of tax.
One room price excludes or includes one or two daily breakfasts served in the hotel.
The hotel keeps the reservation till 18:00 if no any advance note.
Hotel's stipulated check-in time at 14:00 and check-out time at 12:00. Early check-in and late check-out are subject to room availability. The hotel might request half day or full day room price for late check out.


Profile

Qianmen Jianguo Hotel, starting its business in 1956, is located
on the business center of Beijing. The hotel neighbors Qianmen
Commercial Street in the east, and Niujie, or Ox Street Mosque-one
Moslem bethel in the west. To its south is the Temple of Heaven
while to its north, the far-famed Liulichang Cultural Street. The
Hotel has good traffic network, which is just 3 kilometers
from the Tian'anmen Square, 5 kilometers from the Beijing Railway
Station, and 35 kilometers from the Capital Airport.
The Hotel has 407 spacious, redecorated and well-appointed
suites with free online services, 11 Chinese and Western-style
dining rooms and banqueting halls, different standard meeting
rooms and multi-purpose halls and different kinds of recreation
facilities, especially Liyuan Theatre where far-famed Peking
Opera-one of China's quintessence - is offered at 19:30 p.m.
every night and profound Shaolin Kungfu is performed at 12:30.
We cordially welcome your visit and guarantee that you will enjoy
the best services in Qianmen Jianguo Hotel.

Services

Chinese Cuisine
Western Cuisine
Cafe
Bar / Lounge
Room Service
Disco Karaoke
Fitness Facility
Sauna

Facilities

Meeting Facilities
Business Center
Currency Exchange
Ticketing Office
Domestic Long-distance Access
International Long-distance Access
Laundry Service
Gift Shop
Beauty Salon
Taxi
Broadband Access in all room

Features

The Liyuan Theatre is the first place for art co-run by Beijing
Qianmen Jianguo Hotel and Peking Opera Theatre. It can hold
thousands of audience. Artists from Beijing's Peking Opera
Theatre offer one of Chinese quintessence-Peking Opera.
All the offered plays are repertoire of Peking Opera that are
carefully selected. Sitting beside old fashioned square tables
for eight people,audience can enjoy delicious snacks and
famous Chinese tea while watching performances of Male
Role (Sheng),Female Role (Dan), Painted Face Male (Jing)
and Clown (Chou).What a wonderful art enjoyment! Besides,
you are allowed to enter making-up rooms to see how actors
or actresses make up their faces and become pleasantly
surprised later. At the same time, the theatre gives simultaneous
interpretation services in English, Japanese and French at each
show. In the display & sales hall, you can glance over the brief
history of Peking Opera and the stage photos of prominent actors
and actresses; or buy Peking Opera costumes, masks and musical
instruments, Chinese calligraphies and paintings, audio and video
tapes.
You may also please to have a photo taken of yourself wearing a
Peking Opera costume and make-up with one of your favorite actors
or actresses.
There is a very famous Chinese saying: "Shaolin Temple is the place
where the Chinese Kungfu originated". The Liyuan Theatre has joined
hands with the Songshan Mountain Temple in Henan Province, with
monk team showing Shaolin Kungfu exclusively in Beijing, including
Chinese boxing, spear-play, sabre-play,sword-play, cudgel-play,
boxing and other Shaolin Temple's profound Neigong, Waigong,
Qinggong, Qigong, Yinggong as well as secret Kungfu using for
temple protection. How sight worthy these Kungfu are!
With elegant and comfortable environments, Liyuan Theatre
welcomes you to visit and enjoy its superb opera and Kungfu
performances and impeccable services.