Legole.Com Discover china. Explore the beauty and wonder of the land, people, and culture of

China

.

Beijing Huandao Boya Hotel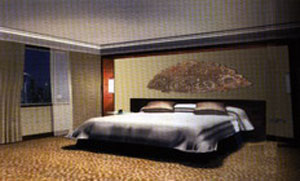 2 Wanshou W. Street, Haidian District, Beijing, China, 100036

Location: Beijing Huandao Boya Hotel is located in the Haidian District, adjoin to the subway.About 5 kilometer to the city center;45 minutes driving distance from the airport;
Surrounding: Beijing West Railway Station; The Imperial Palace
Accepted credit cards: Master, Visa, AMEX, Diners Club, JCB

Price and Booking

Room Type Period Average(CNY/ USD)
Boya Suite Jul 1, 2005 - Aug 31, 2005 1500/ 185
Business Deluxe Room Jul 1, 2005 - Aug 31, 2005 998/ 123
Jul 1, 2005 - Aug 31, 2005 998/ 123
Deluxe Room Jul 1, 2005 - Aug 31, 2005 798/ 99
Huandao Suite Jul 1, 2005 - Aug 31, 2005 2000/ 247

Payment

Pay at hotel reception
(This hotel requires you pay the full room charge directly at hotel reception by guarantee first.)

The room price is quoted in both CNY and USD. After you submit your booking form, our memo table will show you the total room price in CNY,not USD, and which is the figure you need pay at the hotel reception.
The room price has included 15% service charge, but excludes any sort of tax.
One room price excludes or includes one or two daily breakfasts served in the hotel.
The hotel keeps the reservation till 18:00 if no any advance note.
Hotel's stipulated check-in time at 14:00 and check-out time at 12:00. Early check-in and late check-out are subject to room availability. The hotel might request half day or full day room price for late check out.


Profile

Beijing Huandao Boya Hotel, along the west Changan
Street, was built according to international five star
standard. It is managed by Hongkong Taide International
Hotel Manage Group. The hotel has predominant location
and surroundings, it is located in Wanshou Road of
Haidian District, close to Changan Street, in the east of
the China Millenium Monument, Military Affairs Museum,
CCTV, in the north of Bayi Lake and Kunyu River, in the
west of Olympic Games. The transpotation is very convenient.

Services

Air-conditioning
IDD
DDD
TV
Business center
Conference room
Multifunctional hall
Chinese restaurant
Western restaurant
Japanese restaurant
Bar
Coffee shop
Gymnasium
Sauna
Massage
Swimming pool
Night club
Parking
Ticket service
Laundry

Facilities

Beijing Huandao Boya Hotel has 143 guest rooms,
many room types are available, including standard,
deluxe, business deluxe, boya suite, huandao suite
and so on. All rooms are well-equipped: air-conditioning,
IDD, DDD, satellite TV, etc.

Features

For the facilities, conference rooms, multifunctional
hall, business center, Chinese restaurant, Japanese
restaurant, hall bar, coffee shop, business bar,
gymnasium, night club, swimming pool, beauty salon,
sauna, massage, shoping arcade, billiard/chess room
and so on. Newly opened in Nov. 2004, the hotel offers
guests a warm and pleasant home away from home.