Legole.Com Discover china. Explore the beauty and wonder of the land, people, and culture of

China

.

Zhenjiang International Hotel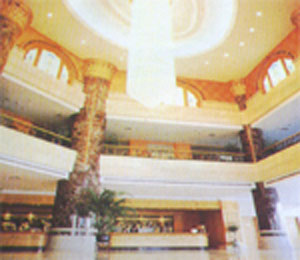 218 Jiefang Road, Zhenjiang, China, 212001

Location: The hotel is located in the city center, only ten minutes' drive to the railway station.
Surrounding: -
Accepted credit cards: -

Price and Booking

Room Type Period Average(CNY/ USD)
Deluxe Room Jan 1, 2005 - Dec 31, 2005 428/ 53
Executive Room Jan 1, 2005 - Dec 31, 2005 468/ 58
Standard Room Jan 1, 2005 - Dec 31, 2005 388/ 48
Suite Jan 1, 2005 - Dec 31, 2005 588/ 73

Payment Pay at hotel reception
(This hotel requires you pay the full room charge directly at hotel reception by guarantee first.)

The room price is quoted in both CNY and USD. After you submit your booking form, our memo table will show you the total room price in CNY,not USD, and which is the figure you need pay at the hotel reception.
The room price has included 15% service charge, but excludes any sort of tax.
One room price excludes or includes one or two daily breakfasts served in the hotel.
The hotel keeps the reservation till 18:00 if no any advance note.
Hotel's stipulated check-in time at 14:00 and check-out time at 12:00. Early check-in and late check-out are subject to room availability. The hotel might request half day or full day room price for late check out.

Profile

The Zhenjiang International Hotel is a "four star" tourism hotel
and located in the Jiefang Road, the most prosperous street
in the city. This hotel enjoys a good location and is easily accessible.
It neighbours on a 16,000 centiares grass land--the hall of the city,
and it only takes about 10 minutes' driving from the railway station
and 5 minutes' walking from the South Gate Bus Station. Besides,
the major downtown area is only within walking distance.

Services

Meeting Facilities
Business Center
Parking
Domestic Long-distance Access
International Long-distance Access
Beauty Salon
Broadband Access in some room
Chinese Cuisine
Western Cuisine
Bar / Lounge
Karaoke
Chess / Poker Room
Bowling
Fitness Facility
Sauna

Facilities

The hotel boasts 430 rooms and suites including standard
rooms, deluxe suites and presidential suite. All of the guest
rooms are comfortable and nicely equipped to give a feeling
of home from home.

Features

The hotel makes all the efforts to meet your business
and travel needs with a great combination of services
such as business facilities, accommodation, food, recreation
entertainment.
The hotel also has a variety of facilities and services to
cater to the needs of both business and leisure travelers.
There are different Chinese and Western restaurants here
provide good food cooked by famous chefs. Guests can
enjoy the panoramic view of the city while dining in the
revolving restaurant on the 29th floor. In addition, the hotel
also has conference halls of various types and a multi
functional hall which can hold up to 450 people. The hotel
also boasts a business center, fitness center, beauty salon,
bowling alley, billiards room, sauna, swimming pool and a disco.