Legole.Com Discover china. Explore the beauty and wonder of the land, people, and culture of

China

.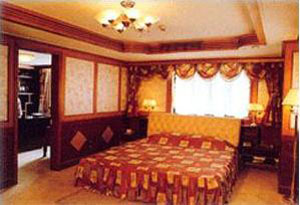 42 North Wenhe Road, Yangzhou, China, 225002

Location: lies in the Shugang - Slender West Lake area.
Surrounding: Slender West Lake area
Accepted credit cards: Visa

Price and Booking

Room Type Period Average(CNY/ USD)
Entertainment Suite Apr 20, 2005 - Apr 20, 2006 420/ 52
Standard Room(A Type) Apr 20, 2005 - Apr 20, 2006 350/ 43
Standard Room(B Type) Apr 20, 2005 - Apr 20, 2006 280/ 35
Standard Room(C Type) Apr 20, 2005 - Apr 20, 2006 220/ 27
Triple Room Apr 20, 2005 - Apr 20, 2006 380/ 47

Payment

Pay at hotel reception
(This hotel requires you pay the full room charge directly at hotel reception by guarantee first.)

The room price is quoted in both CNY and USD. After you submit your booking form, our memo table will show you the total room price in CNY,not USD, and which is the figure you need pay at the hotel reception.
The room price has included 15% service charge, but excludes any sort of tax.
One room price excludes or includes one or two daily breakfasts served in the hotel.
The hotel keeps the reservation till 18:00 if no any advance note.
Hotel's stipulated check-in time at 14:00 and check-out time at 12:00. Early check-in and late check-out are subject to room availability. The hotel might request half day or full day room price for late check out.

Profile

Built in Feb. 1997 and occupying over 20,000 square meters,
Yangzhou Lantian Hotel has been ranked among the first-rate
comprehensive entertainment place in Yangzhou which provides
services incorporating catering, accommodation and entertainments.
There are 120 guestrooms in the hotel, and convention facilities including
multifunctional hall and meeting rooms.The hotel also boasts resraurants
and recreational facilities

Services

Chinese Cuisine
Western Cuisine
Cafe
Bar / Lounge
Room Service
Gym
Beauty salon
Business center

Facilities

Multifunctional hall
Meeting rooms
Bowling alleys
Ballroom
Game room
Skate rink
Suana rooms

Features

The hotel enjoys ideal locations and easy transportations.
With the location advantages and full facilities, the hotel is
an exellent residence for business trip, shopping and vacations.