Legole.Com Discover china. Explore the beauty and wonder of the land, people, and culture of

China

.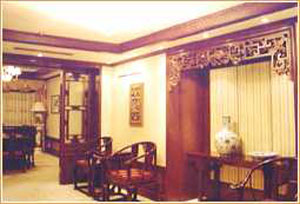 No. 1 Wenchang Xi Road, Yangzhou, China, 225009

Location: The hotel is located on the ancient road in the city's business center by the Slender West Lake.
Surrounding: Slender West Lake
Accepted credit cards: Master, Visa, AMEX, Diners Club, JCB

Price and Booking

Room Type Period Average(CNY/ USD)
Deluxe Room May 6, 2005 - Dec 31, 2005 498/ 61
Executive Floor May 6, 2005 - Dec 31, 2005 618/ 76
Standard Room May 6, 2005 - Dec 31, 2005 438/ 54
Standard Suite Jan 1, 2005 - Dec 31, 2005 888/ 110

Payment

Pay at hotel reception
(This hotel requires you pay the full room charge directly at hotel reception by guarantee first.)

The room price is quoted in both CNY and USD. After you submit your booking form, our memo table will show you the total room price in CNY,not USD, and which is the figure you need pay at the hotel reception.
The room price has included 15% service charge, but excludes any sort of tax.
One room price excludes or includes one or two daily breakfasts served in the hotel.
The hotel keeps the reservation till 18:00 if no any advance note.
Hotel's stipulated check-in time at 14:00 and check-out time at 12:00. Early check-in and late check-out are subject to room availability. The hotel might request half day or full day room price for late check out.

Profile

Grand Metropole Hotel Yangzhou is the first joint venture
international 4-star hotel in the area, managed by a team
of experienced hoteliers under the China Travel Hotel
Management Services H.K.ltd. Besides 242 well facilitated
guest rooms, there are shopping arcades, convention hall,
health and recreation center, night club, business center
and other facilities as well. Check out: 12:00 pm

Services

Front Desk
Bar
Restaurant
Safe Deposit Box
Lounge
Coffee Shop
Room Service
Parking
Conference Facilities
Meeting Facilities
Non Smoking
Medical
Currency Exchange
Business center

Facilities

There are total of 242 guest rooms with well equipped facilities,
including 191 elegant standard rooms, 25 double rooms and 26
suites, provides you with nobility & comfort.
Electric kettle
Hair dryer
Non-smoking floor
Internet on line
Shoes shine service
Laundry/valet
Bathroom scales
Safety box
24 hours hot water
Mini-bar/refrigerator
DDD/IDD
Pay movie system(VOD)
Free article on loan
Telephone voice mail service
Central air-conditioning and individual control system
Free baby cot &ice cube
Free daily newspaper (Deluxe room&Executive floor)
24 TV channels including BBC?CBS?NHK?star TV
Chinese, etc
Every room is equipped with advanced electric lock which
connecting to the security control system.

Features

Western Cuisine
Italian seafood with steamed rice, Pan-fride Salmon,New Zealand
Sirloin Steak,Grilled Sirloin Steak.

Huai Yang Cuisine
Fish noodle with Crab Butter in Chicken Soup,Sauted Shrimps and
Crab Roe with orange Juice,Boiled Shredded of Dried Bean Curd,
Sweet and Sour Boneless andarin Fish,Chicken Congee with Abalone

Cantonese Cuisine
Sauted Cod Fish with Asparagus,Sauted Seafood with Green
Bean.