Legole.Com Discover china. Explore the beauty and wonder of the land, people, and culture of

China

.

Nanjing New Century Hotel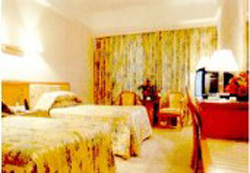 No.278-2 Longpan Road, Nanjing, China, 210037

Location: The hotel is 10 minutes walk to the International Exhibition Center,2 minutes walk to Nanjing Railway Station ,40 minutes drive to Lukou International Airport. The public bus stop which is adjacent to the hotel is heading to different parts of city.
Surrounding: Zhong Shan Mount and Xuanwu Lake.
Accepted credit cards: Master, Visa, AMEX, Diners Club, JCB

Price And Booking

Room Type Period Average(CNY/ USD)
Deluxe Room Feb 1, 2004 - Dec 31, 2005 458/ 57
Executive Deluxe Suite Jan 1, 2005 - Dec 31, 2005 1140/ 141
Executive Room Jan 1, 2005 - Dec 31, 2005 640/ 79
Standard Room Feb 1, 2004 - Dec 31, 2005 380/ 47

Payment

Pay at hotel reception
(This hotel requires you pay the full room charge directly at hotel reception by guarantee first.)

The room price is quoted in both CNY and USD. After you submit your booking form, our memo table will show you the total room price in CNY,not USD, and which is the figure you need pay at the hotel reception.
The room price has included 15% service charge, but excludes any sort of tax.
One room price excludes or includes one or two daily breakfasts served in the hotel.
The hotel keeps the reservation till 18:00 if no any advance note.
Hotel's stipulated check-in time at 14:00 and check-out time at 12:00. Early check-in and late check-out are subject to room availability. The hotel might request half day or full day room price for late check out.

Profile

Jiangsu New Century Hotel - an international standard four
star business informative hotel, is situated on the west of
Zhongshan Mount, fragrant atmosphere, convevnient trans-
portation, and well-equipped with Internet service and meeting
facilities.Various types of 324 elegant rooms and suites. All
rooms and consume places are equipped with Internet connection.
Satisfy the needs for business and surf "Service first , guest
foremost "is their motto and they will surely make you feel at home.

Services

324 lake view rooms with deluxe and fragrant environment.
Beautiful Zhongshan Mount can be viewed form a distance
inside rooms. Economy Room, Family Suite and Exeutive
Room can safisfy with your all kinds of tastes. 24 hours
enthusiastic and considerate service will make your every
stay a perfect.
Equipped with advanced vingCard key system and lnspect
system,
Central air conditioning with individual controls
Refrigerator
MINI bar
in-room safety deposit box
Complimentary breakfast
newspaper and magazine
IDD & DDD
Color Television with 39 Channels, such as HBO, CNN, etc
Internet access (RJ45)-broadband high-speed Internet service
is of charge, Well equipped Computers (Pentium) are provided
on Net Connected Executive Floors,Providing VOD on 24th floor,
Watching DVD, Checking consume massage are all available.

Facilities

Indoor natatorium
Gymnasium
Bowling
Sauna
tennis ball
Pingpong
Billiard

Features

The hotel has 16 different styles of Chinese and Western
restaurant with complete service.Located on the second
floor are Red Palace and Green Garden with luxurious
decoration,it is cozy and comfortable. It's an ideal place
for you to hold invitation parties and taste the real western
cuisine, located on the first floor are coffee shop and Sidehill
Tea House with elegant environment.Tasting western cuisine
here will definitely give you a lasting impression,especially suitable
for small party. In additional,the hotel also has a big banquet hall
with a capacity for 300 people, a scenic view restaurant that can
hold 120 people, 11 middle,small-scaled private rooms, satisfy your
all kinds of needs.