Legole.Com Discover china. Explore the beauty and wonder of the land, people, and culture of

China

.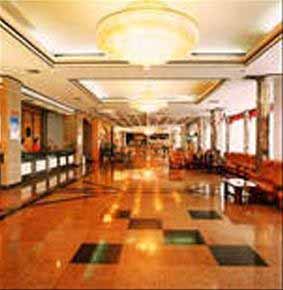 NO 1. Bao Feng Road, Wu Ling Yuan District, Zhangjiajie, China, 427400

Location: A 30-minute ride from railway station, 5-minute ride from airport, and 8-minute ride to the city center.
Surrounding: Zhangjiajie Airport
Accepted credit cards: --

Price and Booking

Room Type Period Average(CNY/ USD)
Deluxe Suite Jun 15, 2004 - Dec 31, 2005 880/ 109
Single Room Jun 15, 2004 - Dec 31, 2005 240/ 30
Standard Room Jun 15, 2004 - Dec 31, 2005 240/ 30

Payment

Pay at hotel reception
(This hotel requires you pay the full room charge directly at hotel reception by guarantee first.)

The room price is quoted in both CNY and USD. After you submit your booking form, our memo table will show you the total room price in CNY,not USD, and which is the figure you need pay at the hotel reception.
The room price has included 15% service charge, but excludes any sort of tax.
One room price excludes or includes one or two daily breakfasts served in the hotel.
The hotel keeps the reservation till 18:00 if no any advance note.
Hotel's stipulated check-in time at 14:00 and check-out time at 12:00. Early check-in and late check-out are subject to room availability. The hotel might request half day or full day room price for late check out.

Profile

Heaven Gate Hotel, Zhangjiajie is a three-star joint-venture established
by Beijing Jin Fei civil aviaton economy development Center and Guangzhou
Baiyun Internatinal airport. Lies to the Zhangjiajie airport, this hotel occupies
a good location, surrounded by elegant rivers and verdant mountains, with
fresh air, quiet enough, which is an ideal place for either business travel
and family holiday, or conference and company training.

Services

Fishing pool
Baggage storage services
Security guard
Medical services
24-hour room services.
Business Center
Meeting Facilities
Parking
Domestic Long-distance Access
International Long-distance Access
Beauty Salon
Coffee Shop
Massage
Sauna
Hotel airport See-off service fee (one way) : CNY50.00

Facilities

This hotel is well-equipped and elegantly decorated, has totally 148
guest rooms ranging from standard room to presidential suite. The
Multi-function Hall for meeting or training are able to accommodating
more than 200 people. For recreation, the hotel has KTV, Night Bar,
Sauna and massage service, Billiards and Ping-Pang Room, Beauty
Salom, Gym…etc. Quick and high-qualited service can make guests
feel the same as staying at home.

Features

This hotel features unique local cuisine and wonderful performance of
Tu ethnic minority that brings their guests to have a feeling of both of
ancient and modern China and to have a vivid study of Chinese history
and civilization.