Legole.Com Discover china. Explore the beauty and wonder of the land, people, and culture of

China

.

Zhangjiajie International Hotel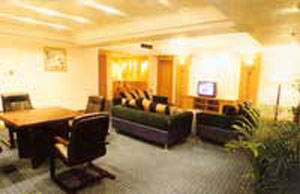 No. 42 of San jiao ping, Yongding District, Zhangjiajie, China, 427000

Location: Located in the Golden Triangle of the western part of the city, the hotel is only 3.5-kilometers away from the Airport, 10 minuters by car, and 15-minutes from the railway station.
Surrounding: Zhangjiajie Forest Park, Tian Zi Mountain, and Suo Xi Valley Nature Reserve Area
Accepted credit cards: Master, Visa, AMEX, Diners Club, JCB

Price and Booking

Room Type Period Average(CNY/ USD)
Deluxe Room(Twin beds) Oct 7, 2004 - Dec 31, 2005 620/ 77
Deluxe Single Room Jan 1, 2005 - Dec 31, 2005 620/ 77
Deluxe Suite Oct 7, 2004 - Dec 31, 2005 1500/ 185
Standard Room(Twin beds) Oct 7, 2004 - Dec 31, 2005 480/ 59
Standard Single Room Jan 1, 2005 - Dec 31, 2005 480/ 59

Payment

Pay at hotel reception
(This hotel requires you pay the full room charge directly at hotel reception by guarantee first.)

The room price is quoted in both CNY and USD. After you submit your booking form, our memo table will show you the total room price in CNY,not USD, and which is the figure you need pay at the hotel reception.
The room price has included 15% service charge, but excludes any sort of tax.
One room price excludes or includes one or two daily breakfasts served in the hotel.
The hotel keeps the reservation till 18:00 if no any advance note.
Hotel's stipulated check-in time at 14:00 and check-out time at 12:00. Early check-in and late check-out are subject to room availability. The hotel might request half day or full day room price for late check out.

Profile

The Zhangjiajie International Hotel is a joint-venture established by the
Zhang Jia Jie Tourism Development Co. LTD, China Tourism Group and
Hong Kong China Tourism Group.Built by 4-Star hotel standards, it is a
multi-function luxury international hotel. With beautiful surroundings,
complete equipment as well as convenient transportation, the hotel
stands like an imperial garden. It's really an ideal lodging place for
guests from both home and abroad.

Services

Security guard
Medical services
24-hour room services.
Safe deposit boxes
Tian Tong National Banquet Hall
21st Century Entertainment Hall
Business Center
Beauty Salon
Sauna Center
Crystal Palace Massage Center
Swimming pool,
Gymnasium
Night Club
Telephone Service
Department for Tourists

Facilities

The 10-story building occupies 3.4 hectares with a total construction
area of 26,000 square meters. Apart from 300 sets of standard rooms
and 3 large-sized parking lots, the hotel also boasts of a high-ranking
suite room. All rooms are equipped with minibar, satellite TV and IDD.

Features

In order to form a comfortable and harmonious combination, hotel offers
different styles restaurants: The Four-Season Tang Dynasty Restaurant
serves delicious Chinese cuisine in an elegant atmosphere; The Golden
Butterfly Palace offers western food; The Xiang Yuan Special Flavor
Restaurant offers Hunan cuisine; and Lu Yu Teahouse, Sunshine Bar,
Restaurant of Golden Ear of Grain are also enjoyable.