Legole.Com Discover china. Explore the beauty and wonder of the land, people, and culture of

China

.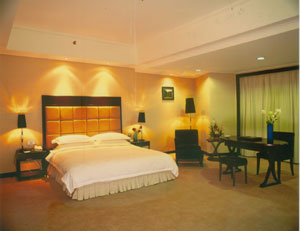 No. 380 Jiefang Dong Road, Changsha, China, 410001

Location: The hotel located in the downtown of the city, about 34km from the airport and 2km from the railway station.
Surrounding: Yuelu Mountain Head of Orange Island
Accepted credit cards: Master, Visa, AMEX, Diners Club

Room Type Period Average(CNY/ USD)
Executive Room(VIP Building) Feb 15, 2004 - Dec 31, 2005 788/ 97
Standard Room(East Tower) Feb 15, 2004 - Dec 31, 2005 350/ 43
Superior Room(VIP Building) Feb 15, 2004 - Dec 31, 2005 510/ 63
Superior Standard Room(East Tower) Feb 15, 2004 - Dec 31, 2005 390/ 48

Payment

Pay at hotel reception
(This hotel requires you pay the full room charge directly at hotel reception by guarantee first.)

Profile

Huatian Hotel was established in 1985, which is the first five
star hotel in Hunan province. It's also the first hotel that obtains
the membership of the China Famous Hotel Corporation and
owns Les Clefs in Hunan. Huatian Hotel offers the most
modern comfort in combination with excellent service. Add a
touch of changsha mystique and the perfect recipe for elegance
and pleasure is created.
Check out: 12:00 pm

Services

Airport Representative
Laundry and Dry Cleaning
Free Shuttle Bus Service
Baby Sitting
Tickets & Travel
Medical Clinic
Shopping Arcade Postan Service
Non-smoking Floors Flowers
Special Service for the Disable
Photography & Kiosk
Assistant Mananger 24-hour on Duty
Film Developing Service
24-hour Concierge Service
Limousine/Car Rental
24-hour Room Service
Shoe-shining Service

Facilities

We offer you high-quality accommodations by unique decoration,
charming atmosphere and meticulous oriental service. Every guest
here will really enjoy their stay and feel like the host of hotel
controlled air conditioning
color TV with satellite programs
in-house movise
fully stocked mini-bar
private safety box
broadband internet access
direct dial telephone
baby sitter
business center

Features

Consisting of Xingzhu coffee shop, food street, silver
tower western restaurant, Huatian restaurant and Huan
restaurant, it offers you an exquisite culinary experience.
Cheers Bar
It serves western and Chinese cakes and pastries, Coffee
and finest teas.

Food Street
Offers various snacks from different parts of China
including Sichuan, Chaozhou, Beijing, Lanzhou.

Silver Tower Western Restaurant
Serves western cuisines including authentic French
cuisines, U.S steaks, German style pork, Italian
Spaghetti and Pizza

Guest Comments

Everything was fine, the only comment I have is that in the Huatina Hotel I tryed to call by phone to my office in Mexico and couldn't do it, so I call the operator to help me to make the call and she could hardly speak english and couldn't help me at all. In general I think the Huatian Hotel needs to improve in the english speaking of their staff. I will suggest also to include more occidental options of food for the restaurants and room
service.