Legole.Com Discover china. Explore the beauty and wonder of the land, people, and culture of

China

.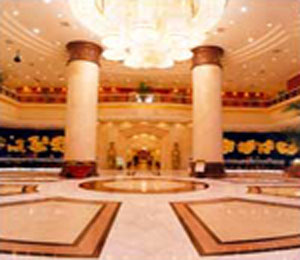 No. 149 Shaoshan Road, Changsha, China, 410011

Location: This Hotel is ideally located in the heart of Changsha, with only 30-minute drive from the airport and 5-minute drive from the railway station.
Surrounding: commercial center
Accepted credit cards: Master, Visa, Diners Club, JCB

Price And Booking

Room Type Period Average(CNY/ USD)
Deluxe Single Room Jan 1, 2005 - Mar 31, 2006 660/ 81
Standard Room Jan 1, 2005 - Mar 31, 2006 518/ 64
Standard Suite Jan 1, 2005 - Mar 31, 2006 720/ 89
Superior Single Room Jan 1, 2005 - Mar 31, 2006 570/ 70

Payment

Pay at hotel reception
(This hotel requires you pay the full room charge directly at hotel reception by guarantee first.)

Profile

The Dolton Hotel Changsha is a deluxe five star hotel
constructed elegantly with the international standard.
The main building fifty-one stories, towers majestically
above the city's downtown.The hotel is locate in the city
centre. With its convenient location and the combination
of its quiet surroundings and the busy city life, it is one
of the most ideal hotels for you to stay.
Check out: 12:00 pm

Services

air conditioning
bar and lounge
business center
cable TV
conference facilities
direct dial Telephone
in room safe
multi-language staff
swimming pool
110 Voltage Plug
billiards
beauty salon
facilities for disabled
sauna and massage
The hotel Grand Ballroom can hold up to 1600 guests
and the International Conference Room is features
state-of-art audio-visual and lighting equipment, installed
with simultaneous interpretation system, projector and
portable stage. There are also four conference rooms
and a fully-equipped business center, which supported
by a comprehensive range of facilities with a complete
range of efficient services.

Facilities

The Dolton Hotel has 450 rooms and suits with deluxe
amenities and style of ultimate comfort and convenience.
electronic safe deposit box
color TV satellite programs
individually controlled airconditioning
international direct dialing
mini bar

Features

The hotel offers a wide selection of restaurants
with a tempting range of cuisine.
In the refined Food Street, you can taste regional
foods of a wide variety with 24-hour service.
Cantonese Seafood Restaurant offers renowned
cuisine such as Cantonese, Chowchow, Hunan and
Huaiyang cuisine.
Lobby Lounge provides a perfect rendezvous for
drinks where live exquisite music sets a relaxing
mood in subdued tasteful environment.
As with the recreation and entertainment facilities,
there is a bowling alley, snooker, sauna & massage,
night club, health club, beauty salon and indoor
swimming pool

Guest Comments

I am very satisfied with your booking center. However, when I did a google search for
hotels in China, your name did not appear in a Google search. I found your booking center indirectly by searching for hotels in Changsha, China. It seems that you're the only booking center that serves the Changsha area. You should find out why your booking center does not appear prominently on a Google search to improve your accesibility to the world outside China.

Dolton Hotel:
We are very happy with the facility, staff service, as well as location of the Dolton Hotel in Changsha. The service and the breakfast was magnificent.

Prime Hotel:
However, we're not too happy with the services in the Prime Hotel, by comparison with the Dolton Hotel and Xi Qi Hotel in Xi'an. We also stayed in Xi'an for 3 nights and 3 days. Even though both Prime Hotel and Dolton Hotel are 5 stars, Dolton definitely is better that the Prime Hotel. At Dolton, the breakfast and the broadband Internet service are free, while at Prime, a fee was charged. Everything seemed over priced at Prime. I went to buy a nail clipper at the gift shop, and it cost me 20 CNY, while for 20 CNY, I can buy a suite of nail clippers at a place like Hong Qiao Shopping Center. What was worse was the broadband Internet service. It was priced at CNY20.00 per hour and 60 CNY per day. I came home to use my Internet, and only signed up for 1 hour at around midnight. But at check out time, I was charged 40 CNY for one sesion,and 60 CNY for another session. Even though I put my computer to hibernation after my brief internet usage, I was still charged for the amount. I argued with the check-out clerk for the unfairness of the charge, and a manager came out, and she still did not see the unfairness of the charge, and insisted that I paid for the service I never used. The amount was not large, but I was just annoyed by the unfairness of the service.