Legole.Com Discover china. Explore the beauty and wonder of the land, people, and culture of

China

.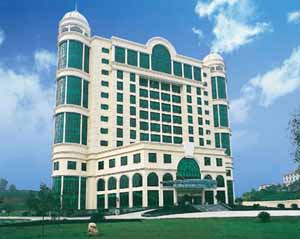 No. 25 Shen Zhen Road, Dongshan Development Zone, Yichang, China, 443000

Location: located in Dongshan Developing Area, 1 km to Han-yi Highway, 25 km to The Three Gorges International Airport and 0.8 km to downtown.
Surrounding: Dongshan Developing Area
Accepted credit cards: Master, Visa, AMEX, Diners Club, JCB

Price and Booking

Room Type Period Average(CNY/ USD)
Deluxe Family Suite May 1, 2005 - Mar 31, 2006 800/ 99
Deluxe Single Room May 1, 2005 - Mar 31, 2006 420/ 52
Deluxe Standard Room May 1, 2005 - Mar 31, 2006 340/ 42
Noble Business Suite(A Type) May 1, 2005 - Mar 31, 2006 1700/ 210
Noble Business Suite(B Type) May 1, 2005 - Mar 31, 2006 1400/ 173
Noble Business Suite(C Type) May 1, 2005 - Mar 31, 2006 1000/ 123
Noble Family Suite May 1, 2005 - Mar 31, 2006 1300/ 160
Noble Standard Room May 1, 2005 - Mar 31, 2006 360/ 44

Payment

Pay at hotel reception
(This hotel requires you pay the full room charge directly at hotel reception by guarantee first.)

The room price is quoted in both CNY and USD. After you submit your booking form, our memo table will show you the total room price in CNY,not USD, and which is the figure you need pay at the hotel reception.
The room price has included 15% service charge, but excludes any sort of tax.
One room price excludes or includes one or two daily breakfasts served in the hotel.
The hotel keeps the reservation till 18:00 if no any advance note.
Hotel's stipulated check-in time at 14:00 and check-out time at 12:00. Early check-in and late check-out are subject to room availability. The hotel might request half day or full day room price for late check out.

Profile

Peninsula Hotel is situated in Dongshan development zone. lt stands
in picturesque surroundings and has good transport facilities which
is 1km away from the entrance of Hanyi motorway, 25km away from Sanxia
international airport and 0.8km away from the downtown section. Peninsula
Hotel has unique and it thinks of the life style of European and American.
It's a noble business hotel with a standard of four stars invested by
national power company,managed by Gezhouba Hotel. Its noble housekeeping
service would satisfy you. You would be fully taken care of in the hotel.
Peninsula Hotel has become the first choice of the businessmen of the
three gorges area because of the favourable comment of all guests since
opening. Peninsula Hotel has 154 rooms which are varied styles, there are
noble family suites, deluxe family suites, noble business suites, noble
double rooms, deluxe double rooms, deluxe single rooms, it meets the demands
of different guests, with unique noble housekeeping service, you can do your
business in your room.

Services

Chinese Cuisine
Western Cuisine
Disco Karaoke
Chess / Poker Room
In-door Swimming Pool
Tennis
Fitness Facility
Sauna

Facilities

Meeting Facilities
Business Center
Ticketing Office
Domestic Long-distance Access
International Long-distance Access
Gift Shop
Complimentary Broadband Access

Features

The oriental delicacies will be shown in Gangenia Restaurant.
restaurants with various styles reflect each country folk custom.
Romantic and France flirtatious expressions will be shown in
Champs-Elysees western restaurant. Barle Door sing and dance
hall will show you old style and features of Shanghai.
New amusement are varied and interesting: shahu-ball, Karaoke,
tennis court, swimming pool and barbecue etc... Health center and
Queen sauna could relieve your tiredness during your trip.
Having five conference halls and meeting rooms, Peninsula Hotel
meets the requirements of the meetings and exhibition Business
center, shop, business bar, ticket center are provided.