Legole.Com Discover china. Explore the beauty and wonder of the land, people, and culture of

China

.


Country Profile :Tibet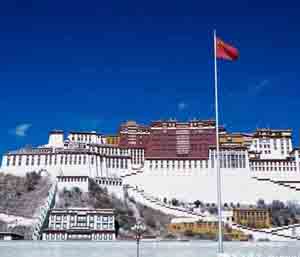 Tibet (Xizang), the Roof of the World, remained unknown to the world until the very beginning of the 20th century. The massive, snowy land has exerted an awesome draw to travelers and adventurers ever since. Its majestic and grand scenery, mysterious and exotic religious culture, and wonderful people reward every tourist with an indelible life long memory!
Tibet (Tibet Autonomous Region, TAR for short) borders India, Burma, Bhutan, Sikkim, and Nepal. Covering a massive 1,220,000 square kilometers (470, 920 square miles), the plateau is surrounded by the highest mountain ranges, the Himalaya to the south, the Karakoram to the west, and the Kunlun to the north. Smaller mountain ranges block it off in the east with internal provinces of China. With an average height of 4,000 meters above sea level, Tibet encompasses some of the world's highest mountains. Mt. Everest towers over the region. Four mountains exceed altitudes of 8,000 meters (26,240 feet). Thirty-eight mountains exceed altitudes of 7,000 meters (22,960 feet). This "Roof of the World" is the dreamland of mountaineers and adventurers. The vast land is also the cradle of great rivers like the Yangtze, Yellow River, Nu River (Salween), Lancang River (Mekong), Yarlong Tsangpo (Brahmaputra), Indus, and Ganges. Tibet also offers awe-inspiring scenery of heavenly lakes and valleys.

Lhasa and Shigatse are the well trodden areas which offer the most accessible religious monuments and tourist attractions. As the most important cities of Tibet, Lhasa and Shigatse feature most of the religious monuments including the Potala, the Jokhang Temple, Tashilunpo Monastery, and Kumbum, as well as natural wonders including Mt. Everest and Yamdrok Yumtso Lake.

Western Tibet, Ngari, is a vast barren plateau and renowned as the Roof of Tibet. As the place where the sacred lake (Lake Manasarova) joins the sacred mountain (Mt. Kailash), Ngari is a holy pilgrimage destination of both Tibetans and Hindus, as well as a popular challenge to trekkers. The ancient Shang Shung Kingdom and Guge Kingdom also exert a pull.

Southwestern Tibet has been a popular destination for mountaineers. More than 40 snow capped peaks are open to mountain climbing enthusiasts. Southern Tibet offers snow capped mountains, primeval forests, running waters, and a relatively mild climate. The largest canyon in the world, Yarlong Tsangpo Canyon, is the home of rare species, and remains unknown to the foreigner.