Legole.Com Discover china. Explore the beauty and wonder of the land, people, and culture of

China

.

Hongan International Hotel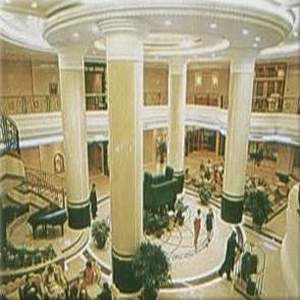 28 Binxi Road, Datong, China, 037008

Location: The Hongan International Hotelis located just 10-minutes from Datong railway station and only 20-minutes from the direct Beijing-Datong express freeway.
Surrounding: Yungang Buddhist Grottoes
Accepted credit cards: Master, Visa, AMEX, Diners Club, JCB

Price And Booking

Room Type Period Average(CNY/ USD)
Business Suite Jul 12, 2005 - Jul 24, 2005 1546/ 191
Aug 6, 2005 - Dec 31, 2005 1546/ 191
Deluxe Single Room Jul 12, 2005 - Jul 24, 2005 480/ 59
Aug 6, 2005 - Dec 31, 2005 480/ 59
Standard Room Jul 12, 2005 - Jul 24, 2005 384/ 47
Aug 6, 2005 - Dec 31, 2005 384/ 47

Payment

Pay at hotel reception
(This hotel requires you pay the full room charge directly at hotel reception by guarantee first.)

Profile

A 4-star hotel, the Hong An International Hotel,
Datong combines an elegant traditional interior
design with modern guest facilities.The Hong An
International Hotel is situated in Datong, Shanxi
province where famous tourist attractions like
the Yungang Buddhist Grottoes, the Hanging
Temples and the Wooden Pagoda Tower are
located. The hotel combines an elegant traditional
interior design with very modern guest facilities.
A new 4-star hotel in Datong.

Services

Air Conditioning
Bar & Lounge
Beauty Salon
Conference Facilities
Laundry
Money Exchange
Safe Deposit Box
Sauna
Shopping Arcade
110 Voltage Plug
Airline Desk
Bank
Business Center
Cable TV
Coffee Shop
English-speaking staff
Mini-bar
IDD
Restaurants
Refrigerator

Facilities

The hotel provides 98 comfortable guestrooms.
These include a presidential suite, deluxe duplex
suites, and many standard and single rooms.
All rooms are equiped with facilities such as
IDD telephone connections, satellite television
and Mini-bar service. Each room is decorated
with traditional room amenities and around-the-
clock service is what one would expect from
this world-class international hotel. The business
center offers Fax, Internet access, ticket booking
and some local tour arrangment services. The re-
creational facilities include a KTV room, Sauna,
Massage, and an indoor swimming-pool. You can
unwind youself herein thorougly.

Features

the hotel offer a wide variety of delicious
international cuisine. The Chinese restaurant
serves Cantonese and Sichuan cuisine, the
Justine's offers European food and the Hongan
Sorabol provide Korean BBQ. Beside there is
also the Food Street, where you can get some
local specialties.