Legole.Com Discover china. Explore the beauty and wonder of the land, people, and culture of

China

.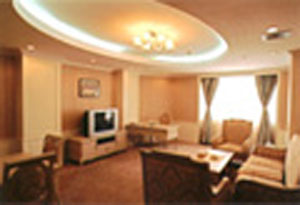 No.12 Yuhuangge Bei Jie, Yinchuan, China, 750004

Location: It is conveniently located in the commercial area of Yinchuan, adjacent to the Yuhuang Pavilion.
Surrounding: Yuhuang Pavilion
Accepted credit cards: Master, Visa, AMEX, Diners Club, JCB

Price and Booking

Room Type Period Average(CNY/ USD)
Business Standard Room Apr 1, 2005 - Oct 30, 2005 309/ 38
Nov 1, 2005 - Mar 31, 2006 290/ 36
Single Room Mar 1, 2004 - Mar 31, 2006 260/ 32
Standard Room Apr 1, 2005 - Oct 30, 2005 252/ 31
Nov 1, 2005 - Mar 31, 2006 238/ 29
Suite Apr 1, 2005 - Oct 30, 2005 530/ 65
Nov 1, 2005 - Mar 31, 2006 500/ 62

Payment

Pay at hotel reception
(This hotel requires you pay the full room charge directly at hotel reception by guarantee first.)

The room price is quoted in both CNY and USD. After you submit your booking form, our memo table will show you the total room price in CNY,not USD, and which is the figure you need pay at the hotel reception.
The room price has included 15% service charge, but excludes any sort of tax.
One room price excludes or includes one or two daily breakfasts served in the hotel.
The hotel keeps the reservation till 18:00 if no any advance note.
Hotel's stipulated check-in time at 14:00 and check-out time at 12:00. Early check-in and late check-out are subject to room availability. The hotel might request half day or full day room price for late check out.

Profile

The Era mansion is standard three star hotel within diversified
service.It is located in the business district with convenient
situation and surrounding. Warmly attitude, caring responses
will leave nothing to be desired.
Check in/out: 12:00 pm

Services

Business Center
Concierge
Banquet
Restaurant
Safe Deposit Box
Lobby Lounge
Coffee Shop
Room Service
Handicap Facilities
Wheel Chair Access
Sauna
Conference Facilities
Currency Exchange

Facilities

The hotel boasts has over 100 guestrooms, including standard
rooms, business room and deluxe suites. All rooms have internet
access, air conditioning, mini-bar,satellite TV, laundry service, in-
room safe and IDD/DDD.

Features

The hotel's Chinese restaurant, with 400 seat provides authentic
Sichuan and local specialties.Its Business Center which providesfull
business facilities and service. Recreational facilitiesinclude a night
culb, beauty salon and a sauna.