Legole.Com Discover china. Explore the beauty and wonder of the land, people, and culture of

China

.

Lin Fung Temple (Temple of the Lotus)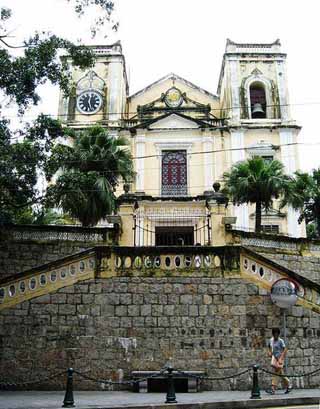 Lin Fung Temple is one of the three famous temples in Macau (the other two are: A-Ma Temple and Kun Iam Temple).

Lin Fung Temple has a history of over 400 years as it was originally built in 1592. It was restored many times in the Qing Dynasty and most of the present structures are the result of the restoration which started in 1876.

A pair of stone lions guard the entrance, and Lin Fung Temple has a fine facade of intricate clay bas-relief sculptures carved in the 19th century depicting historical and mythological figures.

The main hall of this temple is dedicated to the Goddess of Mercy, whose statue occupies an elaborate altar. The ceiling is a particularly good example of black beam and exposed white tile construction.

Historically, Lin Fung Temple has been well known for centuries as the place where Chinese Mandarins from Guangdong province would stay when they came to Macau. The most renowned visitor was Commissioner Lin Zexu, who, in order to suppress the opium trade, interviewed officials of Macau in this temple on September 3rd, 1839. He is now honored with a six-foot granite statue and a new museum in the temple courtyard. Because of this historic occasion, the temple became renowned both at home and abroad.