Legole.Com Discover china. Explore the beauty and wonder of the land, people, and culture of

China

.

Changchun International Conference & Exhibition Center Hotel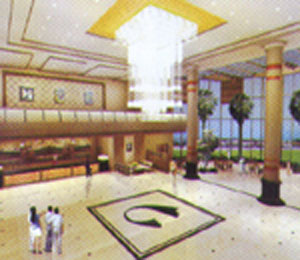 No. 100 Huizhan Street, Econimic Development Zone, Changchun, Changchun, China, 130033

Location: The hotel is about 25 KM away from the airport and 12.8 KM away from the railway station.
Surrounding: Jin Yue Pool Forest Park, 21st Square
Accepted credit cards: Master, Visa, AMEX, Diners Club, JCB

Price And Booking

Room Type Period Average(CNY/ USD)
Deluxe Suite Jul 6, 2005 - Jul 29, 2005 630/ 78
Jul 30, 2005 - Aug 15, 2005 800/ 99
Aug 16, 2005 - Jun 20, 2006 630/ 78
Standard Room Jul 6, 2005 - Jul 29, 2005 298/ 37
Jul 30, 2005 - Aug 15, 2005 488/ 60
Aug 16, 2005 - Jun 20, 2006 298/ 37
Standard Suite Jul 6, 2005 - Jul 29, 2005 488/ 60
Jul 30, 2005 - Aug 15, 2005 580/ 72
Aug 16, 2005 - Jun 20, 2006 488/ 60

Payment

Pay at hotel reception
(This hotel requires you pay the full room charge directly at hotel reception by guarantee first.)

Profile

The Changchun International Conference and Exhibition Center is
a four star hotel located in Changchun Economic Development Zone.
The hotel is close to the beautiful Jingyuetan Garden, and owns a
quiet environment for the guests to relax themselves and enjoy the
beauty of the nature. It is definitely a good choice for the guests in
and abroad.

Services

The hotel provides the following services to the guests in the hotel,
such as:

Meeting Facilities
Business Center
Currency Exchange
Ticketing Office
Laundry Service
Handicap Friendly Room
Gift Shop
Flower Shop
First Aid
Beauty Salon
Broadband Access in all rooms

Facilities

The hotel, which has 27 floors, is about 100.80 metres high. It has
174 standard guestrooms and 59 suites in it with the maximum
occupation of 450 guests to live at the same time. All the guestrooms
are equipped with satellite TV, IDD, mini bar and air conditioning.
Also, the hotel provides the 24 hours dining-sending service as
well as the 24 hours laundry service. Besides, the room service
also includes the waken-up sevice to the guests in the hotel.

Features

The hotel provides a 100 square meters multi-function hall and 20
various sizes of meeting rooms for the guests to use. Moreover,
there is a concert hall equipped with 6 language simultaneous
interpretation system and audio visual system, which will offer
you a fine enjoying. Also, the hotel's business center providing
typing, translation, photocopying and fax services to the business
people to deal with their own business affairs. For dining, the hotel
provides different types of cuisines in the hotel restaurant. For
recreation, the hotel offers a sauna and massage center, billiards
room, tennis court, beauty salon and gym.