Legole.Com Discover china. Explore the beauty and wonder of the land, people, and culture of

China

.

Suzhou Baodao Garden Hotel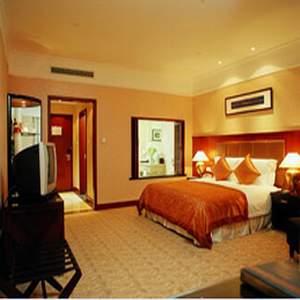 Changsha Island, Tailake National Tourism Resort District, Suzhou, China, 215164

Location: located on Changsha Island of Tai Lake Tourism Area. It takes only 30 minutes from our hotel to Suzhou city along the Circular Expressway and Hubing Road.
Surrounding: Changsha Island
Accepted credit cards: Master, Visa, AMEX, Diners Club, JCB

Price And Booking

Room Type Period Average(CNY/ USD)
Deluxe Room Apr 28, 2005 - Dec 31, 2005 668/ 82
Deluxe Suite Apr 28, 2005 - Dec 31, 2005 1258/ 155
Standard Room Apr 28, 2005 - Dec 31, 2005 568/ 70
Standard Suite Apr 28, 2005 - Dec 31, 2005 1128/ 139

Payment

Pay at hotel reception
(This hotel requires you pay the full room charge directly at hotel reception by guarantee first.)

The room price is quoted in both CNY and USD. After you submit your booking form, our memo table will show you the total room price in CNY,not USD, and which is the figure you need pay at the hotel reception.
The room price has included 15% service charge, but excludes any sort of tax.
One room price excludes or includes one or two daily breakfasts served in the hotel.
The hotel keeps the reservation till 18:00 if no any advance note.
Hotel's stipulated check-in time at 14:00 and check-out time at 12:00. Early check-in and late check-out are subject to room availability. The hotel might request half day or full day room price for late check out.

Profile

Suzhou Baodao Garden Hotel is invested by Suzhou Taihu
Baojing Tourism Real Estate Development Co.,LTD. whose
headquarter is Beijing Tianhong Group. It's designed by WoodHead
International Building Designing Group and decorated in line with 5
star standards. The unique style and the surrounding villas have
formed the Baodao Garden District.It is 20 kms far away to Suzhou
New District, 40 kms to Singapore Industry Park, 120 kms to Shanghai
Hongqiao International Airport.

Services

Laundry/ dry-cleaning / 12pressing service
Baby cots
Baby-sitting service
Entertainment & television 12channel
Telephone data port
Voice mail
Executive floor
In-room safe
Lost & found
Medical service
Visitor
Hotline / emergency call
Electricity
Emergency

Facilities

IDD Telephone with Voice Mail
Cable/Satellite TV
Central Air-conditioner
Refrigerator
Minibar
Hairdryer
Shaver
Separate Bath and Shower
Bathrobe
In-room Electronic Clock
Healthy Scale
Electronic Key Card System
Smoke Detector/Sprinklers
Daily Newspaper
24 hours in Room Dining

Features

The hotel offers a wide selection of eastern and western
dishes. Meanwhile, it features various rooms with the most
modern facilities. Our Business Center provides the most
comprehensive range of services to meet all your business
needs. Whether you want to release a stress after a long day,
keep fit or just simply relax our Spa, managed by Banyan Tree
Spa Pte Ltd from Singapore, provides a refreshing break to you.
The hotel is equipped with high quality facilities and professional
service available 24 hours, which creates a home away from
home for you.