Legole.Com Discover china. Explore the beauty and wonder of the land, people, and culture of

China

.

Qinhuangdao International Trade Hotel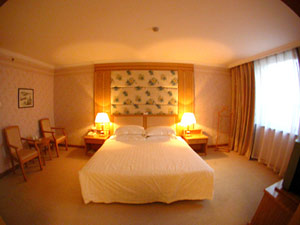 No. 190 Minzhu Road, Qinhuangdao, China, 066001

Location: t is located close to the people Square and distance from the airport 1.5km
Surrounding: The people square
Accepted credit cards: Master, Visa, AMEX, Diners Club, JCB

Price And Booking

Room Type Period Average(CNY/ USD)
Deluxe Room Jul 1, 2005 - Aug 31, 2005 399/ 49
Sep 1, 2005 - Jun 30, 2006 380/ 47
Deluxe Suite Jul 1, 2005 - Aug 31, 2005 790/ 98
Sep 1, 2005 - Jun 30, 2006 650/ 80
Standard Room Jul 1, 2005 - Aug 31, 2005 359/ 44
Sep 1, 2005 - Jun 30, 2006 299/ 37
Suite Jul 1, 2005 - Aug 31, 2005 690/ 85
Sep 1, 2005 - Jun 30, 2006 520/ 64

Payment

Pay at hotel reception
(This hotel requires you pay the full room charge directly at hotel reception by guarantee first.)

The room price is quoted in both CNY and USD. After you submit your booking form, our memo table will show you the total room price in CNY,not USD, and which is the figure you need pay at the hotel reception.
The room price has included 15% service charge, but excludes any sort of tax.
One room price excludes or includes one or two daily breakfasts served in the hotel.
The hotel keeps the reservation till 18:00 if no any advance note.
Hotel's stipulated check-in time at 14:00 and check-out time at 12:00. Early check-in and late check-out are subject to room availability. The hotel might request half day or full day room price for late check out.

Profile

The Qinhuangdao International Trade Hotel is a four star
hotel for all businessman and travellers. It is adjacent to
the people square. With its convenient location and the
combination of its quiet surroundings and the busy city
life, it is one of the most ideal hotels for you to choose.

Services

Air Conditioning
Beauty Salon
Business Center
Coffee Shop
Conference Room
Money Exchange
Cable TV
IDD
Indoor Swimming Pools
Massage Rooms
Post Service
Laundry Service
Min-Bar
non-smoking rooms
rooms for handicapped

Facilities

The hotel boast has 163 different type guestrooms, including
standard rooms, single rooms and suites. All room are equipped
with
air conditioning
satellite TV
mini bar
laundry service
IDD
24-hours ser

Features

The hotel has Chinese Restaurant, Western Restaurant and
Coffee bar. Chinese Restaurant serves Sichuan, Cantonese
and Huaiyang cuisine. The restaurant located on 21 floor,
the guest not only can enjoy a beautiful view of the city,
but also taste the delicious food.For recreation, such as
bowling alley, swimming pool, billiards room and karaoke.